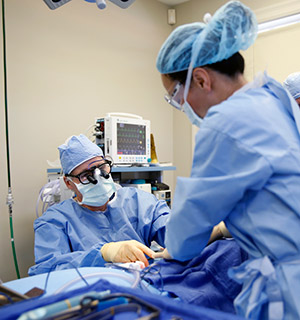 Surgical Center
About the Surgical Center
Our private ambulatory surgical facility in Larkspur, California contains our physician-owned office and surgical suite. It is certified by the American Association for Accreditation of Ambulatory Surgery Facilities, the gold standard for accreditation. Our board-certified anesthesiologists administer deep sedation (Monitored Anesthesia Care) or general anesthesia. Patients can also choose to do shorter procedures under local anesthesia with oral or IV sedation.
The surgical center has a separate back entrance with handicap access, so our patients can safely arrive and depart after their surgery. Dr. Denkler and Dr. Hudson have designed and equipped the operating room so that patients receive surgical expertise without the excess costs of a hospital operating room or larger outpatient surgical facility.
Recovery is a time to gently "sleep-off" the anesthesia or sedation medication.
Patients are kept comfortable, and any discomfort (like pain or nausea) is treated immediately and effectively. They are encouraged to enjoy hydration with water, juice or tea, and have a light snack.  When we determine it is safe and prudent for the patient to be discharged, their post-op instructions are reviewed and they are provided with all of their necessary supplies.  After confirming that they are safe to continue recovering in the comfort of their own home, they are taken by wheelchair to the car, to be driven home by their family member or friend. We stress the importance that a responsible adult supervise the patient for 12-24 hours after surgery. Patients and their caretaker are given Dr. Denkler's and Dr. Hudson's home and cell phone numbers for extra assurance should any questions arise.
Our patients are well-prepared during their pre-op visit for what to expect from their surgery and their post-op experience, so they can achieve optimal healing and their desired surgical result.